Scottish Football League Info Android App

(last updated 16th May 2022)
The Scottish Football League Info v0.2.6-beta App release is now available!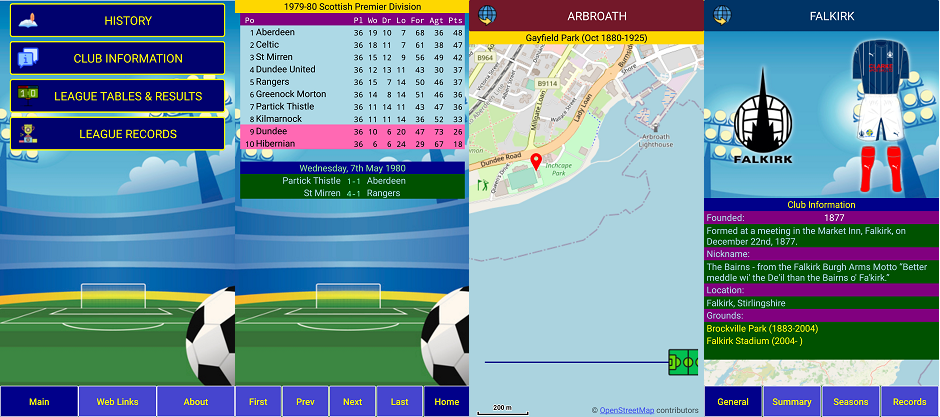 This is a non-commercial, ad-free Android Phone App.
A comprehensive User Guide (pdf) for this release can be downloaded from here. I'd recommend reading this in order to enjoy all of the app's features. Please install a suitable pdf viewer such as Adobe Acrobat before clicking the above pdf link.
This release is provided for Google Play – Internal Testing. This is one of the test phases prior to the App becoming available on Google Play Store. It is important that the App is tested extensively at this time so as to ensure the first release proper is a reliable one. If you wish to take part in this activity, then please e-mail your request to:
stewart_mathers@yahoo.com
Please note that only Google account e-mail addresses can be used as this will be validated by Google prior to enabling the app download.
A support wiki for the App is available on GitHub here.
I shall respond with a test Google Play App installation link after adding you to the tester list.
From a privacy perspective, I shall be adding your e-mail address to the App's Tester list which resides on the Google Play Console server.
A support wiki for the App is available on GitHub here.
Change History
v0.2.6-beta
Released: 16-May-2022
– Refactor League Table code to reduce main thread loading
– Generate clubs' 2021-22 season's records
– Update web links text to reflect sites
– Dark Theme Phase 1 – add support functionality
– Address rapid club info option selection causing increased nav stack
– Map memory leak fix on non-General Club info exit
– Highlight selected club in the league results
– Change contrast ratio for highlighted league club
v0.2.5-beta
Released: 06-May-2022
– Enhancement of network security configuration
– Accessibility touch target size increased
– Contrast improvement to league navigation buttons
– Footer button colour scheme changed
– Fix for Club Info & League season nesting due to rapid selection
– Minor cosmetic adjustments
– Web link disclaimer and picture acknowledgements added
– Map file set versioning introduced to avoid unnecessary file unarchiving
v0.2.4-beta
Released: 29-Apr-2022
– Fix map related memory leak
– Various formatting and code tidy changes
– Change logo and splashscreen android enhancement user
– Add a Privacy Policy page to About options
– Make Records the last option
– Update 3rd Lanark's grounds with Victoria Park location
– Add League History pages
– Rename app to Scottish Football League Info in prep for Google Play
– Fix Alloa & Clyde related zero length map tile images
– Replace Berwick Rangers map tiles with detailed ones
– Remove scrollview usage from league table page
– Reduce height of club header buttons
– Update league results and league split club data
– Update Cowdenbeath, Armadale, and Annan club info
– Re-enable ground map feature
– Change ground map references to only use NLS tiles from Maptiler
– Add club location map to club general info page
– Add map attribution labels which launch sites on hybridwebview
– Add sub-menu to club info seasons option
– Update ground map tiles selection method
– Introduce map tile caching for offline use
v0.2.3-beta
Released: 26-Mar-2022
– Fix website links for former League clubs
– Release build bug fix and minor updates
– Add icons to main menu and weblink buttons
– Add custom image to map slider control
– Add multiple map attribution support as required by maptiler
– Remove hidden weblinks from Copyright page
– Update background image attribution
– Remove map related code from WebView
– Add selection button for a club's per-season League summary
– Implement map overlay phase-over using slider control
– Add ground map pin
– Switch ground map solution to BruTile/Mapsui
– Change colour theme to suit new background
– Split Club's Information page into sub-pages
– Add Tier 1 and All Tier sub-pages to League Records
– Group League Clubs list into sub-pages
– Add sub-pages to Main Menu including Web Links
– Disable ground maps feature pending tile server usage policy solution
– Incorrect standings in 2019-20 League Two
– Bottom six teams not highlighted red in 2016-17 Premiership
– Remove unnecessary stacklayouts if grids present
– Add new background image and fix its aspect ratio
– Enable landscape mode
– Refactor XAML content page files
v0.2.2-beta
Released: 31-Jan-2022
– Airdrie United now highlighted as having been relegated in Season 2009-10
– Highlighting of Motherwell & Falkirk non play-off status in Season 2002-03
– Removed erroneous Kelty Hearts season type records
– Fixed crash when selecting Leith Athletic Club Information
– Added back navigation if selecting header button in a club's league summary page
– Information on Cambuslang going defunct added
v0.2.1-beta
Released: 28-Jan-2022
– Fixed Lochgelly United ground location typo causing crash
– Records generated from results up to 26th January 2022
– Set minimum supported version to Android 7.0 (Nougat)
– Corrected improper calls in XAML screen layout
– Updated Stirling Albion and King's Park association
– Use of XAML compiler where possible
– Speeded up League table generation
– Changed App icon and splash screen to match theme colours
– Use of threading to reduce frame skipping
v0.2.0-beta
Released: 24-Dec-2021
– Main Menu "League Tables and Results" option renamed "League Archive"
– Added "Match Highlights" SPFL YouTube channel link
– Use of Montrose and Kelty Hearts Club crests
– Link to Pie and Bovril Forums on Main Menu
– SFHA website link added
– Fixed hang on ground selection when no available internet
– Non-firing website links fix