Scottish Football League Info Android App

(last updated 31st January 2023)
The Scottish Football League Info Android Phone App v1.3.1 is now available from Play Store.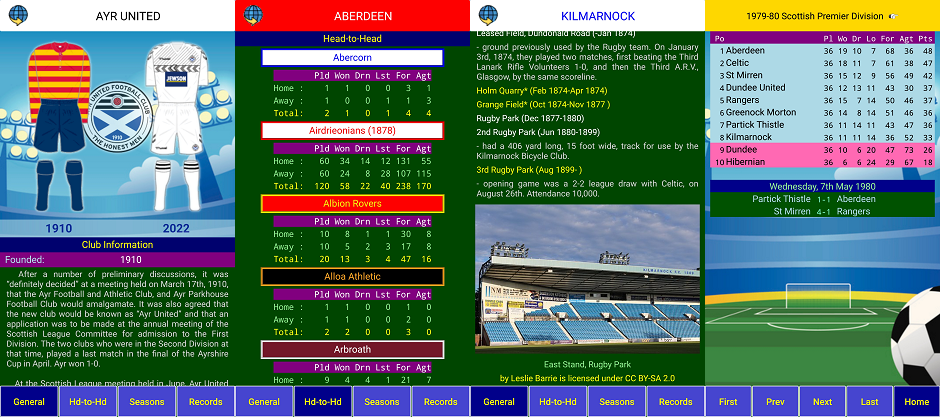 This is a non-commercial, ad-free Android Phone App, featuring:
League tables and results for all divisions from 1890 to 2022
Table modes for Home & Away records, Goal Difference etc.
League table match date navigation
Club's season results options of All, Home, or Away
Full end-of-season play-off results
Miscellaneous records for Tier 1 and All Tiers leagues
Past and present league club info from Abercorn to Vale of Leven
General club information
Club league appearances, titles and Cups summary
Club's league head-to-head records
Selectable season-by-season club final league table standings
Images of present and former clubs' strips
Historic ground locations using offline maps
Quick launch of clubs' official websites and history pages
Scottish Football Quiz

Known Issues – Open
None
Known Issues – Closed
Ocassional missing club name and non-responsive buttons in Club Information pages.

Fixed in the v1.1.2 release.
android.runtime.JavaProxyThrowable exception reported on an Android 12 (SDK 31) device, with the v1.0.0 release. The problem occurred at the time the high level map coordinate calculation was taking place after entering a club's General Information page. Several possible causes ruled out. Unable to reproduce. Potentially due to occasional out-of-order database query results which has been fixed in v1.1.1.

Rapid repeated ground selection in v0.2.8-beta release can result in duplicate map pages.

The only impact to the user is that they will have to backup twice from the repeated map pages. Fixed in the v1.0.0 release.
Future Enhancements Under Consideration
– Add clubs' League Cup and Scottish Cup results
– Generation of tiles from other NLS maps for a more accurate ground timeline
– Scottish Woman's league coverage.
Change History
v1.4.0 (in progress)
Release date: 24-Feb-2023
– TBD
v1.3.1
Release date: 31-Jan-2023
– First Bo'ness match result
– New Falkirk formation details
– Falkirk former ground location updates
– 3rd Lanarkshire R.V. Cup winning image
– Stirlingshire Cup wins added
– League history SPL and SPFL information
– Additional quiz questions
– Record victory match reports – Part 1
v1.2.1
Release date: 24-Dec-2022
– Glasgow, Renfrewshire, and Forfarshire Cup wins added
– Hearts formation update
– Albion Rovers Cowheath Park image
– Dunfermline Athletic first match and captain
– Galston Qualifying Cup Winners team photo
– Nithsdale Wanderers' Crawick Holm ground location image
– Added more quiz questions
v1.1.5
Release date: 24-Nov-2022
– Minor typo fixes
– Ground & map updates for Clyde, Abercorn, Airdrieonians, Albion Rovers
– Likewise for Alloa Athletic, Arbroath, and East Stirlingshire
– Added Qualifying, Consolation, and Challenge Cup wins to club info
– New Scottish Football Quiz feature
v1.1.4
Release date: 02-Nov-2022
– Fix for 2019-20 league table PPG mode crash
v1.1.3
Release date: 31-Oct-2022
– Pinch zoom, fast load, and day of week for results pages
– Rapid match date navigation for league tables
– Maps load change enabling faster first boot
– Reduced app memory requirement by c.40MB
– Tier 1 top league scorer(s) added
– League Records page load improvement
– New sketches and pictures added
– Clyde origins update and close ties to rowing club
– Vale of Leven info update including Loving Cup
v1.1.2
Release date: 12-Oct-2022
– Fix for occasional club info page button and header issue
– Pinch zoom support for History, Version, and Notices pages
v1.1.1
Release date: 07-Oct-2022
– Security vulnerability fix for JQuery
– Potential database query related crash fix
– Minor Google Play accessibility fix
v1.1.0
Release date: 06-Oct-2022
– Earliest & 2022-23 club kit updates from historical kits
– Linthouse info additions including president photo
– European and domestic cup wins
– St Bernard's defunct update including Leith merger
– Club crests moved to background image
– Temp file removal freeing 45MB memory
– Club Info pages makeover including rapid loading
– Pinch zoom support for Club Info and User Guide
– Family photo of James Rigg – 1st Alloa Captain
– Misc updates and images including King's Park bombing
v1.0.2
Release date: 25-Aug-2022
– Targeting Android 12.0 as per Google Play requirements
– Bo'ness general information update
v1.0.1
Release date: 24-Aug-2022
– Albion Rovers, Alloa, Arthurlie, Broxburn & FC Edinburgh updates
– Clydebank, Dundee, Morton, Stirling, Stranraer & 3rd Lanark updates
– Several league void match amendments
– League table generation further optimised
– Goal Average introduction correction from 1908-09 to 1907-08
– Club's league head-to-head records added
– Numerous typos corrected
v1.0.0
Released: 22-Jul-2022
– Changed user preference switch heights to 48dp
– Fixed Talkback accessibility user switches and history issues
– Refactored map code and updated support packages
– Berwick Rangers 1884 foundation details update
– Ayr United Somerset Park 1924 re-development info
– Brechin City's first ground information added
– Minor updates to Hearts, Hibs and Arthurlie and other clubs
– Separate First and Earliest recorded match general info sections
– SFA membership date general info section added
– Embedded User Guide added in place of Help page
– Optimised app start up Asset file copying
– Moved start-up map file copying to background thread to fix ANR
– League Table title left right swipe for previous/next league
– Information updates for Dundee, Celtic, Rangers plus others
– Support for Creative Common image licenses
– Numerous Public Domain & Creative Common images added to Club Info pages
– Clubs now listed in alphabet based groupings
– Bonnyrigg Rose Club Information page added
– Dundee's Carolina Port ground location now known