Scottish Football League Info Android App

(last updated 13th August 2022)
The Scottish Football League Info Android Phone App v1.0.0 Early Access release is now available from Play Store. You can either search for the app on Play Store or use the link provided below:
Download from Play Store to your phone here
PLEASE ALSO COMPLETE A REVIEW/PROVIDE FEEDBACK AT THE ABOVE LINK!
A User Guide is now incorporated into the app for releases v1.0.0 and above, so it will no longer be provided here.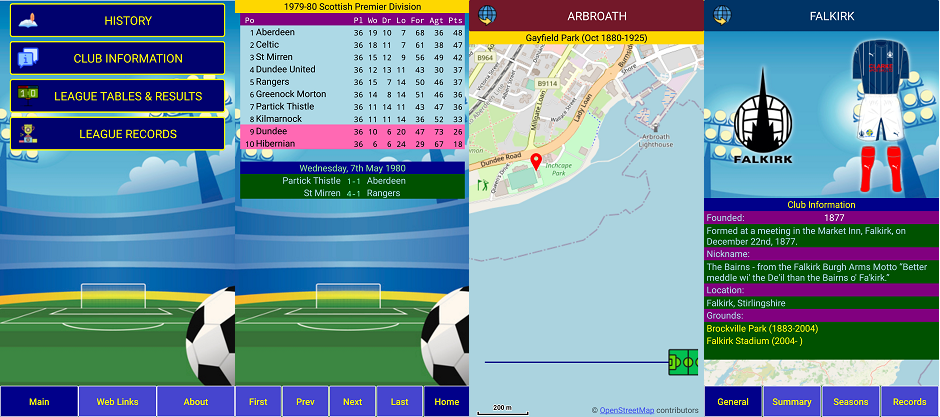 This is a non-commercial, ad-free Android Phone App, featuring:
Information on all past and present league clubs, from Abercorn to Vale of Leven
Images of current club strips or that worn by former clubs prior to leaving the league
Club League appearances and titles summary
Selectable season-by-season club final standings for quick full table and results access
Miscellaneous records for both Tier 1 and All Tiers leagues, e.g. highest win, defeat etc.
Display of historic ground locations, where known, on present and old offline maps
Quick launch of clubs' official websites and history pages
League tables and results for all divisions from 1890 to 2022
Table modes for Home & Away records, Goal Ave. or Difference (season specific)
League date navigation for viewing table standings and results for any match day
Colour coded Elected, Demoted, Promoted and Relegated clubs
Full end-of-season play-off results
Club's season league results options of All, Home, or Away display format
A support wiki for the App is available on GitHub here.
Known Issues – Open
android.runtime.JavaProxyThrowable exception reported on an Android 12 (SDK 31) device, with the v1.0.0 release. The problem occurred at the time the high level map coordinate calculation was taking place after entering a club's General Information page. So far unable to reproduce the problem. Continuing to investigate. (13-Aug)
Single occurrence in v0.2.8-beta release of "Input dispatching timed out – Application Not Responding" with Google Intel Gemini Lake Chromebook Android 11 (SDK 30).

Possibly due to slower device. Start-up asset and map file copying optimised and moved to background thread in V1.0.0 to potentially fix this.
Authentication related issue reported by Google's testing with Sharp AQUOS sense2 SH-01L Android 9 (SDK 28) device.

Failure also reported by a third party so not being considered an app issue at this time.
Known Issues – Closed
Rapid repeated ground selection in v0.2.8-beta release can result in duplicate map pages.

The only impact to the user is that they will have to backup twice from the repeated map pages. Fixed in the v1.0.0 release.
Future Enhancements Being Considered
– Add clubs' Scottish Cup and League Cup results
– Highlight selected club in the play-off results
– Generate tiles from other NLS maps for a more accurate ground period
Change History
v1.0.1 (in progress)
Release date: 26-Aug-2022
– FC Edinburgh update
– Several league void match amendments
– Goal Average introduction correction from 1908-09 to 1907-08
– Club's league head-to-head records added
– Several ground related typos corrected
v1.0.0
Released: 22-Jul-2022
– Changed user preference switch heights to 48dp
– Fixed Talkback accessibility user switches and history issues
– Refactored map code and updated support packages
– Berwick Rangers 1884 foundation details update
– Ayr United Somerset Park 1924 re-development info
– Brechin City's first ground information added
– Minor updates to Hearts, Hibs and Arthurlie and other clubs
– Separate First and Earliest recorded match general info sections
– SFA membership date general info section added
– Embedded User Guide added in place of Help page
– Optimised app start up Asset file copying
– Moved start-up map file copying to background thread to fix ANR
– League Table title left right swipe for previous/next league
– Information updates for Dundee, Celtic, Rangers plus others
– Support for Creative Common image licenses
– Numerous Public Domain & Creative Common images added to Club Info pages
– Clubs now listed in alphabet based groupings
– Bonnyrigg Rose Club Information page added
– Dundee's Carolina Port ground location now known
v0.2.8-beta
Released: 22-Jun-2022
– Origins of Alloa and Hamilton amended
– Change text formatting on Club Info General page
– Added user preferences for browser and dark mode
– Minor club info updates including Hearts and Dundee Hibs
– Different web link icon for internal and external browser
– Pie and Bovril launch URL changed
– NLS map attribution URL updated
– Includes record victories and defeats for all clubs
v0.2.7-beta
Released: 24-May-2022
– Completed season 2021-22 results
– App start-up improvement
– Moved league dates table generation to script and database
– Simplified xaml for displaying Main Menu options
– Fixed web links header contrast
– Now using AOT profiling to improve app responsiveness
– Fixed Premiership bottom six clubs position colour contrast
v0.2.6-beta
Released: 16-May-2022
– Refactored League Table code to reduce main thread loading
– Generated clubs' 2021-22 season's records
– Updated web links' text to reflect sites
– Support infrastructure added for Dark Theme
– Fixed rapid club info option selection causing increased nav stack
– Map memory leak fixed on non-General Club info exit
– Selected club now highlighted in the league results
– Changed contrast ratio for highlighted league club
v0.2.5-beta
Released: 06-May-2022
– Enhanced network security configuration
– Accessibility touch target size increased
– Contrast improvement to league navigation buttons
– Footer button colour scheme changed
– Fix for Club Info & League season nesting due to rapid selection
– Minor cosmetic adjustments
– Web link disclaimer and picture acknowledgements added
– Map fileset versioning introduced to avoid unnecessary file unarchiving